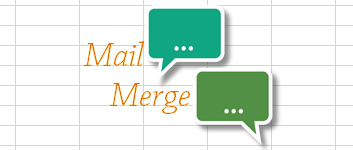 Mail merge is used to print letters or to send Email Messages to multiple addresses. For Example, If you have a letter that is to be sent to many clients then Mail merge can be very helpful. It is used to create multiple copies from a single template using a data source. This letter can be sent out to many recipients with a single click.

How to use Mail Merge in Excel:

Step 1: Create Database

First, we need to create a database of clients in Excel sheet as shown in the image below.

Step 2: Create Word Template

Now, create a letter template in Microsoft Word as shown in the sample image below.

Step 3: Implement Mail Merge

Step 3a:

Click on 'Mailings' tab in word ribbon.

Step 3b:

Now, click on 'Select Recipients' and from drop down select 'Use an Existing List' as shown in the image below.

Step 3c: Linking Database

After step 3b, we need to select the database excel file. Using 'Select Table' window, select the sheet which contains client database. Tick the check box if your data contains headers.

Step 4: Insert Merge Field

Now, we just insert the Merge Fields which were imported from Excel database as shown above. The field name is always surrounded by Chevrons (<< _ >>). They will not be displayed in the final output. These chevrons help us identify the Merge fields.

Step 5: Printing or Sending Emails

Its a good practice to click on 'Preview'  before finalizing. Click on 'Finish and Merge' and then select 'Print Documents' to print the letters.

To send email:

Click on Send Email Messages from Finish & Merge. We get a pop up window with Message options as shown in the image below. Here, we select the Email (This is the Header Field in the Database containing Email addresses) in 'To' section. Enter relevant Subject line and select the Mail format (HTML is preferable) and hit OK.

Note that we must have a Mail Client like "Outlook" installed to send emails using Mail Merge.

Have any Queries? Feel free to contact us here.
10 Mar, 2015
Excel for Commerce
Excel Consultant, Excel Expert, mail merge,